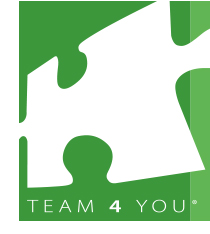 TEAM 4 YOU® s.r.o., limited liability company, was established at the beginning of 2007. We are a young dynamic company dealing, above all, with business teams outsourcing in pharmacy. In 2007 we are opening a branch in Slovakia as well, however, shortly we would like to extend our activities even in other European Union countries.

Considering our long-time knowledge of pharmaceutical area we are able to provide our partners with comprehensive support of their products.

Our business teams are strongly motivated to maximum fulfilment of set sales objectives, they go through a demanding system of training and coaching, they use the latest information technologies for their activity which enable to reach higher efficiency of the whole team as well as exact outputs of their activity.

Our main task is to develop business and marketing support of individual represented products on Czech and Slovak markets going hand in hand with the increase of sales. Our policy is the business based on high quality personal relationships and professional approach. We are proud of high quality services we provide.